14K Gold Golden Retriever Necklace
14K Gold Golden Retriever Necklace

Having a 14K Gold Golden Retriever necklace with your dog's name engraved on it is a wonderful way to let the world know how much your love your dog!  I received a similar necklace shaped like a wiener dog when I owned my little Dachshund, Taz.  Not only was I thrilled to receive and wear it, but I realized after she passed that it is a wonderful, priceless piece of jewelry that I can wear to continue to honor her.  These necklaces are of fantastic quality, fairly priced, and ship quickly.  And honestly, aren't they CUTE?!  🙂

Price – $188


Gift Wrapping Available!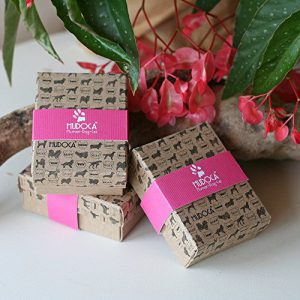 Product Specifications
| | |
| --- | --- |
| Production Method | Production Method : laser and handmade processes |
| Metal stamp | 14K |
| Metal | yellow-gold |
| Material | 14K Solid Gold, Rose Gold Plated |
| Chain | Anchor |
| Clasp | Spring Ring |
| Resizable | N |
Customer Reviews
5 Stars!  "This was a birthday present for my daughter and she loved it."  By John McDougall on March 30, 2017.
5 Stars!  "Beautiful necklace!"  By Becca Bright on March 24, 2017.
5 Stars!  "My daughter loves her necklace. Good quality. Thank You."  By Doreen Brown on March 11, 2017.
4 Out of 5 Stars!  "Beautiful piece."  By Amazon Customer on March 11, 2017.
5 Stars!  "My friend was thrilled with her personalized necklace."  By Suzanne on February 12, 2017.
5 Stars!  "Item arrived in perfect condition, fast shipping!"  By Kkapusuz on February 9, 2017.
5 Stars!  "Very good made my girlfriend cry of happiness!!! Recommend."  By Bikerboy on February 1, 2017.
5 Stars!  "Standard I expect on Amazon. Very happy with the efficiency and product."  By Lillismarts on January 20, 2017.
5 Stars!  "Absolutely overjoyed with my necklace it's beautiful and with my dog's names on as requested. The packaging made my heart melt with Angel as their muse in heaven…"  By Julie on January 16, 2017.
5 Stars!  "Daughter loves it."  By Amazon Customer on January 16, 2017.
About Hudoca Design
From Hudoca Design's Founder

I'm Evrim Ermutlu.
I have degrees in chemistry, business management and an associates degree as a veterinary technician. Right now I'm getting prepared for veterinary license degree. Animals, nature and design are my life. While I'm in touch with animals making designs and when I put my designs into practice, I feel like I'm in heaven. Jewelry design that started as a hobby became a full time business once the interest in Hudoca Design has grown! In time, my husband (Engin) quit from his job and joined Hudoca. It is a pleasure working together and the characteristics we each have that complete each other put Hudoca one step forward. My husband is working on graphic and photography parts and I am in production, workshop and sales. We are a strong team. Once we combine these new ideas, new designs start to grow by themselves.
Production Methods
Everything starts with drawing a sketch of a new model on paper. The scratches of the model are transferred to the computer. Then, depending on the characteristic of the model, it's cut with a hand saw or laser from the silver plates. The cut products are sanded and polished for cleaning. Than if it's a necklace, the chain lengths are adjusted. If it's a product that needs welding, than I weld it. Then fine polishing and shining is done. Electrostatic cleaning and vapor cleaning is done. If coating is needed it's coated with rhodium, gold and rose plates in coating unit and the products are ready to be packaged.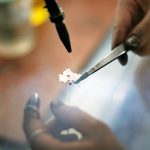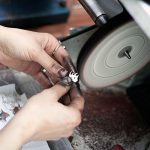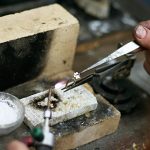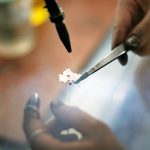 For More Products By Hudoca Design,

CLICK HERE
We Donate to Animal Charities
Thank you for visiting my website. I donate 10% of all commissions I earn on this website and my main website, www.PeopleLovingAnimals.com, to animal charities. You can see a list of the charities I donate to here. If you like my websites, please share them with your friends – every purchase helps animals! Debra  ?